Cinepax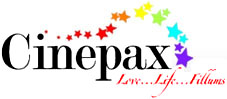 Cinepax is a leading theatrical company in Pakistan. It has built the country's first nationally branded cineplex chain.
Cinepax is dedicated to introducing a world-class movie-going experience to the people by building state-of-the-art movie theaters in largest cities of Pakistan.
Cinepax theaters are located in Karachi, Lahore, Islamabad, Faisalabad, Gujranwala, Multan, and Hyderabad.
Cinepax's investors include the leading investment banks and financial institutions of Pakistan as well as major players in the global entertainment industry.
Cinepax key persons
CEO: Arif Baigmohamed
COO: Danny Sidhwa
Vice President: Saad Ahsanuddin
Senior Adviser: Mathew Heyman
Marketing: Mohsin Yaseen
Operations: Imran Mumtaz
HR: Junaid Rashdi
Finance: Ahmed Azmat Khan
Cinepax Ltd.
Main office in Karachi
B-25, Datari Villas, Bath Island, Karachi, Pakistan. Phone: (021) 529-0680-83, fax: (021) 582-1505, email: contact@cinepax.com
Rawalpindi
Jinnah Park, Kacheri Road, Rawalpindi, Pakistan. Phone: (051) 434-5686, email: contact@cinepax.com
© Preems.com